Our newest feature was created to save you a lot of time and stress when it comes to creating custom orders. We've added a manual order processing feature where you can simply place a hold on your orders until you've uploaded the new file, after which your order will automatically be sent into production.
If you're new to the idea of customization, it's important to not get it confused with our personalization feature. Customization is for store owners who create custom designs for their customers after the product is ordered, such as popyourpup.com, where their customer will include a photo of their pet in the original order, and then the shop owner illustrates their pet and places it on the product in their order. It's important to note that once you turn on the manual order placement option, all of your orders will be put on hold until you either confirm the image, cancel the order, or place the new image.
Curious about including customization options into your store? The best thing brands can do is follow trends and appeal to new customers, product customization creates better customer loyalty and is ultimately a cost effective option for shop owners as they're creating on demand.
Take a look at other successful shops that do customization for their customers:

PupSocks
Crown & Paw
Customization is a very easy and intuitive process with our new automatic order processing hold. Click the video below to watch a step-by-step process of creating an order.
Steps:
• First, create your customizable product. This is the image that your customers will see available in your shop.
• Next, you'll want to create a graphic that shows the customer what they can do with their customization (for example, "Your Name Here!" or "Place Your Image Here").
• Then to turn on the hold, go into your store's account settings and change your setting to "Yes" under the "Automatic Order Hold" dropdown.
• Once a customer has placed an order for your product, make the appropriate design changes, in the example above, a customer wants the name "Katie" on the mug.
• Once finished, go into your pending order and replace the current file with the new customer-personalized file and confirm your new image
• After you hit confirm, your order will then be processed.

Once you place your items on hold, this is how the hold screen will appear until you've uploaded your finished file: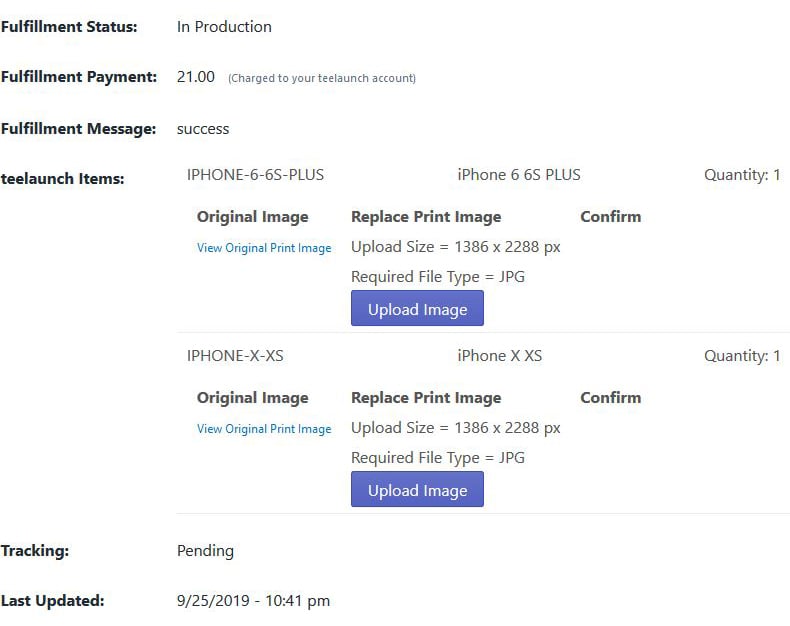 For now, this feature is only compatible with a select few of our products due to their popularity within the customization market (See list below) After the new year we plan on introducing many more products to this feature.
• Phone Cases
• Mugs
• Blankets
• Canvases
• Tumblers
This new feature is an exciting one for any of our store owners interested in expanding their market by including a customization option for their customers. With our new hold feature the process is now easy, quick, and lets you spend more time focusing on what's important, designing and selling.